Pursuing the unique novelty of a BEV, the appeal of driving, and safety and security
Toyota City, Japan, April 12, 2022―Toyota Motor Corporation (Toyota) will launch the all-new bZ4X BEV*1 on May 12, 2022.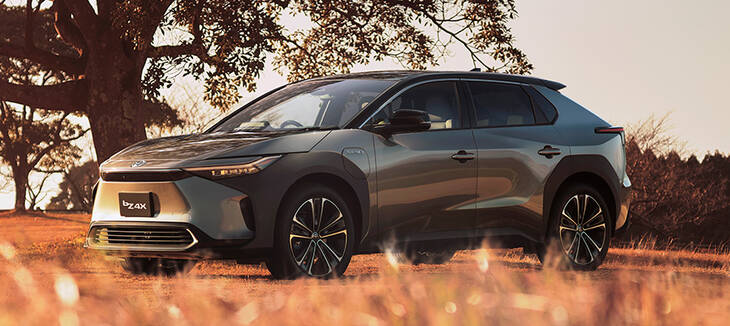 Overview of the bZ4X
The concept is "Activity Hub"Toyota is striving to achieve innovation in all areas including the interior, styling, driving sensation, and performance with the aim of creating exciting cars where all passengers can share an enjoyable time and space.
A BEV-dedicated platform, a first for Toyota, was developed with Subaru based on the e-TNGA philosophy to achieve attractive, smooth, intuitive driving performance, not just for a BEV, but for any car, as well as the off-road performance of an authentic SUV.
Pursuit of the safety and peace of mind of a BEV

The new bZ4X offers superior power efficiency performance (128 Wh/km*2) and sufficient cruising range for practical driving (559 km*2). In addition, development was conducted with a target of achieving a world-leading battery capacity retention ratio (90% after 10 years*3) in the pursuit of a BEV that can be used for an extended period with peace of mind.
In addition to seeking a high level of safety for the battery itself, Toyota Safety Sense, Toyota's latest active safety package, as well as a body structure that can respond to collisions from all directions, a battery pack that contributes to ensuring protection performance in the event of a collision, and other safety features have been adopted in the pursuit of a BEV that can be driven with peace of mind.

Leasing to eliminate customer concerns and contribute to achieving carbon neutrality (CN)

All vehicles will be available for lease to eliminate customer concerns regarding residual battery performance, BEV maintenance, and residual value. Also to contribute to the achievement of CN, battery management will be implemented for all vehicles by using batteries without waste through the 3Rs (Rebuild, Reuse, Recycle).
Provisions for individual customers will be through a bZ4X exclusive KINTO subscription service*4 plan.

A maximum 10-year term with guaranteed battery performance. Monthly payments decrease in stages starting from the fifth year with no early cancellation fees.
Connected service use and various other fees are included in the monthly fees.
Measures will also be taken to improve leased bZ4X vehicles in conjunction with technological innovations.
*1 Battery Electric Vehicle
*2 All figures are calculated using FWD vehicles equipped with 18-inch tires in WLTC (World Harmonized Light Vehicles Test Cycle) mode and evaluated by the Ministry of Land, Infrastructure, Transport and Tourism.
*3 Estimated value is calculated assuming average usage set by Toyota using individual battery cells. Actual battery capacity retention ratio when installed in a vehicle environment may vary depending on customer use conditions, usage environment, and driving methods. Therefore, a 90% battery capacity retention ratio after 10 years is not guaranteed. The battery is guaranteed for 10 years or 200,000 km (70% battery capacity) under the manufacturer's warranty and BEV Battery Support Plus in Japan. We are also preparing guarantees and services tailored to each overseas region.
*4 Full-service lease that includes vehicle charges, insurance premiums, vehicle taxes, maintenance fees, etc. in the monthly fees.
Contributing to the Reduction of CO2 Emissions Through a Variety of Options
Toyota Motor Corporation (Toyota) is striving to resolve various issues to realize a sustainable society, with the aim of passing down this beautiful Earth, our home planet, to future generations. Among these issues, reducing CO2 emissions is an urgent, global-scale challenge, and Toyota is taking measures to achieve carbon neutrality (CN) by 2050 and reduce CO2 with products that are easy to use and highly appealing.
Toyota's fundamental approach is to provide a practical and sustainable means of transportation. Therefore, Toyota is developing a full lineup of electrified vehicles comprising of HEVs, PHEVs, BEVs, and FCEVs. Toyota plans to prepare a variety of vehicle options that customers will want to drive and choose in the hopes of contributing to the reduction of CO2 emissions based on the policies and the spread of renewable energy in each region. Toyota will work to promote the proliferation of BEVs based on this approach. Regarding the bZ4X, Toyota will begin sales of the model globally as an option to promote CN, while considering market situations such as in North America, Europe, and China.
Sales Plan in Japan
In Japan, all vehicles will be leased to eliminate customer concerns regarding BEVs, while implementing battery management for all vehicles to promote the 3Rs (Rebuild, Reuse, Recycle) of batteries. The bZ4X will be made available to individual customers through KINTO subscription services with the aim of enabling use for extended periods with peace of mind and the development of customer-oriented services. For corporate customers, the vehicles will be leased from Toyota Rent-a-Lease Dealers nationwide and the Toyota Mobility Services Corporation (Tokyo region).
In Japan, Toyota will commence the first phase by accepting applications for the first 3,000 units on May 12 and anticipates a second phase of applications in early autumn. A total of 5,000 units for production and sales are planned for the first year.
In addition, Toyota will respond to developments in charging infrastructure. Toyota plans to install rapid chargers at all dealers in Japan by 2025, with initial plans to install rapid chargers mainly in urban areas where demand is high for BEVs.
In this way, with the introduction of the bZ4X in Japan, Toyota will take on the challenge of BEV sales contributing to CN and providing peace of mind regarding BEVs.
Production Plant
Motomachi Plant, Toyota Motor Corporation
Reference: Motomachi Plant started production using CO2-free utility power, which is sourced from 100% renewable energy.